FIRST FLIGHT SOCIETY FORMS NEW ALLIANCE WITH      
ELIZABETH CITY STATE UNIVERSITY'S
DEPARTMENT OF AVIATION EDUCATION
The Tuskegee Airmen, the Apollo 11 astronauts, Amelia Earhart: these are just a sampling of the historic portraits hanging along the wall of the second floor of Elizabeth City State University's STEM Complex, celebrating the pioneers of aviation.
They are part of a collection of 75 portraits that are on loan from the First Flight Society. The loan of the portraits are thanks to a Memorandum of Agreement between the organization and ECSU.
The First Flight Society, […]
NATIONAL PARK SERVICE RE-CREATES PUBLIC VIEWING OF THE LUNAR LANDING FROM JULY 20, 1969!
Re-live the historical moment when man set foot on the moon from the exact location where the Wright Brothers achieved the first successful flight!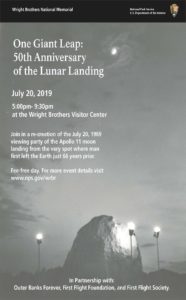 You can see pictures from the original 1969 event at www.nps.gov/wrbr.